The second leg of our honeymoon was spent at The Cuisinart Resort on the gorgeous island of Anguilla. We arrived by ferry from St. Maarten and were shuttled to the resort. There we were assigned a hostess, who familiarized us with the surroundings and checked us in, while our bags were taken to our room.
As the tour wound down, we were taken to our room. It was quite nice. The shaded porch had a private path to the beach. The interior consisted of a spacious living room, a large bed, and a wonderful bathroom with a spacious shower and an even more spacious tub. As we were on our honeymoon, we were greeted with complimentary champagne, and the most ridiculously delicious chocolate covered strawberries any human could want.
The name of the game at Cuisinart is pampered. There are very few rooms, and a significantly large staff. Everyone was friendly, there was free bottled water everywhere, and we were... well... completely catered to during the entire stay. In fact, after the hustle and bustle of St. Maarten, we found the significantly quieter Anguilla a welcome rest.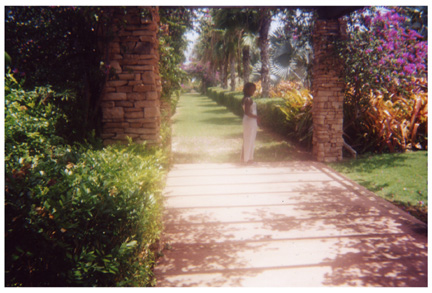 The Cuisinart boasts two wonderful restaurants. Although it is difficult to grow food on Anguilla because it is coral, Cuisinart manages quite well: it has its own hydroponic garden. In fact, the resort grows most of its vegetables and many of its fruits only a few hundred feet from the kitchen.
We took a tour of the garden, and learned a lot about making food grow in such a climate. At the end, we were allowed to eat grape tomatoes right off the vine. Manna from heaven. Seriously. Both of us ate food we normally don't even like, but somehow they made it taste delicious.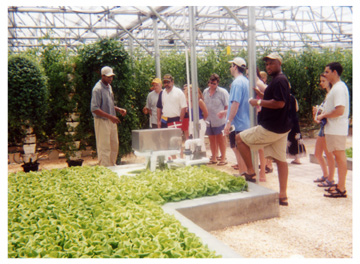 Speaking of the food, Denis Jaricot, the head chef at Santorini, gave a free Food-network-style cooking class, explaining to us how to make homemade pizza, lightly grilled fish, various sauces, soups and other such delights. All were delicious and true delights. The assistant chef then topped it off with one of the best desserts we've ever eaten. Unbelievable.
Once a week, the chef also does a class where guests are allowed to cook with the kitchen staff for a fee. The chef prepares a menu, allows the participants to make minor changes, and then they cook. Once all the food is done, they share the results on the veranda and discuss life. We missed the opportunity to participate in that; however, we were lucky enough to be there for the weekly seven course taster's meal. Wonderful! Again!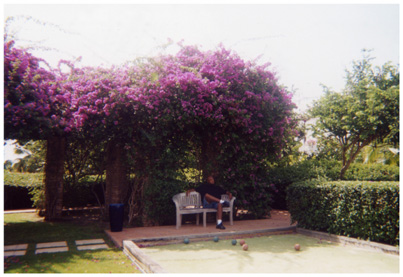 So, let's see, what else happened? Well, other than lots of eating, we played a whole lot of boccie, spent a lot of time hanging out on the white sand beaches, drank a whole lot of bottled water, and slept. In fact, we went to bed early, and woke up late. The staff made our bed twice a day.
Oddly, it wasn't quite the vacation that we had planned. Although we discussed it on more than one occassion, we never actually managed to get ourselves to leave the resort. It was just too easy to stay where we were. Maybe next time we go to Anguilla, we'll venture out to the rest of the island... but then again, maybe not.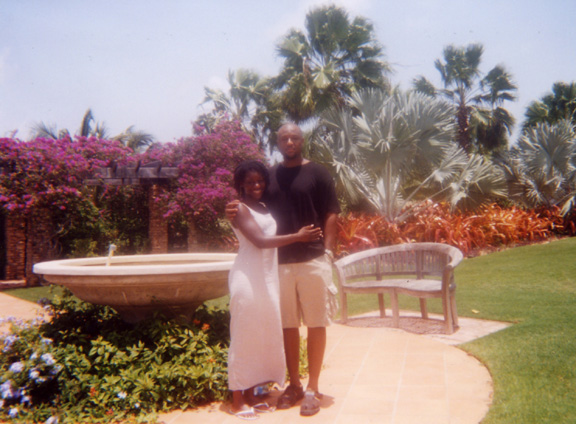 Looking back, it's very difficult to describe our stay. If we had to sum it up in a pithy phrase, it would be this: we've never had such a wonderful time doing absolutely nothing.